Pa'auilo School Agriculture Program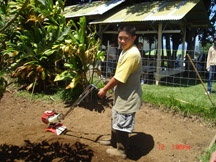 The Pa'auilo School agriculture program began in September 2000 when parent volunteers Jeanne Keller and Donna Mitts led the 2nd grade class through the basic steps of preparing soil, planting seeds, and harvesting produce. Keller and Mitts continued working with the same class when the students became third graders. Organically certified by the Hawaii Organic Farmers Association under the small farm exemption, the Pa'auilo School Agriculture Program has always taught students to grow food using sustainable, responsible practices.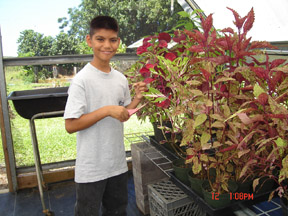 In January 2004 the agriculture program took a giant step forward when our two greenhouses were completed with help from the 21st Century Grant. One greenhouse is used to grow landscape plants and the other is used to grow organic tomatoes, peppers, and cucumbers, as well as a place to start vegetable trays. Raised vegetable and flower beds were added to the area surrounding the greenhouses.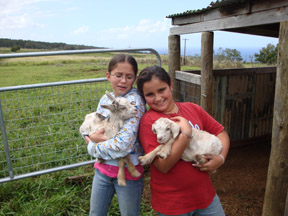 On most Fridays students harvest produce to sell to teachers, staff, and the public at our After School Garden Market from 2:15-3:00 p.m. Students are also given produce from the garden and encouraged to help in the preparation of the food at home. Through this program students are learning leadership skills, building character, and gaining practical hands-on experience in farming, harvesting, and marketing both produce and livestock.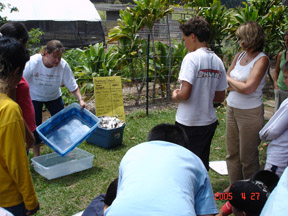 Pa'auilo School regularly hosts compost/vermicompost workshops in partnership with Hawaii Rainbow Worms, Recyle Hawaii and Hawaii County. These popular, well-attended workshops are offered three times per year. In cooperation with Hawai'i County, participants receive a compost bin to encourage composting, thus redirecting green waste from our landfills to usable compost for home use.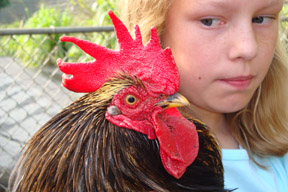 In 2010 Pa'auilo School implemented a mid-scale vermicomposting system for its cafeteria lunch room waste. This system turns lunch waste into highly valuable vermicompost for gardening needs.

For more information, please contact Donna Mitts at ohanadonna@yahoo.com.