Hua O Ke Ao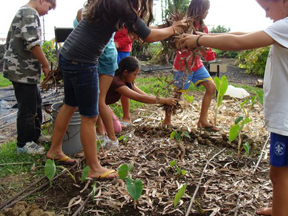 Hua O Ke Ao is a youth agriculture program based on the grounds of the Amy Greenwell Ethnobotanical Garden in Kealakekua. We currently gather once a week after school. Hua O Ke Ao is made available to youth in grades 4 - 12. Currently we are at our maximum with 20 youth enrolled from these south Kona schools: Ho'okena, Honaunau, Konawaena, and Ke Kula 'o 'Ehunuikaimalino.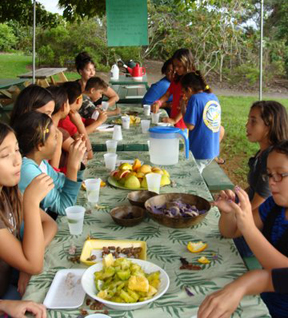 Our unique site offers a rich agricultural history of Kona and is well developed with hundreds of native Hawaiian plant species. Our purpose is to make native agricultural education available to interested youth and their families while meeting different community needs.

Hua O Ke Ao hopes to produce young leaders in the community that are aware and knowledgeable of food security issues, the process of dry land kalo farming along with other native food crops, uses and characteristics of native plants, and the ability to propagate these plant species.


Utilizing the grounds of the Hawaiian botanical garden allows us to compliment the hard work that is already being done here. We want our youth to care for and become intimately connected to the 'āina. Hua O Ke Ao is a partnership between the Hawai'i Island School Garden Network and The Bishop Museum.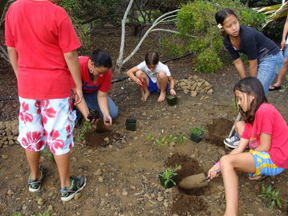 For more information, contact Anne (Kamuela) Meheula-Naihe.









Read the Hua O Ke Ao Newsletters:
October 2012
November/December 2012
January/February 2013
March/April 2013